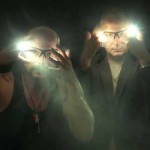 Briefly dipped my toes back into dance music interview waters to talk to Orbital for TheMusic.com.au – here's what Paul Hartnoll had to say, with some bonus quotes that didn't make the cut tacked on the end…
WONKY, THE COMEBACK ALBUM ORBITAL FANS DIDN'T KNOW THEY HAD TO HAVE, HAS BEEN WIDELY PRAISED AS THE SEMINAL RAVE DUO'S FINEST WORK SINCE THEIR '90S HEYDAY – AND PAUL HARTNOLL TELLS KRIS SWALES THAT HE AND BROTHER PHIL ARE DETERMINED TO CREATE SOMETHING EVEN MORE MEMORABLE NEXT TIME ROUND.
While many of their first wave of '90s stadium techno contemporaries have done more to tarnish their reputations than enhance them with their studio output since the turn of the century, Paul and Phil Hartnoll called time on Orbital at the perfect moment in 2004 – with the law of diminishing returns not quite in full effect and their standing as one of dance music's finest live outfits intact.
The brothers Hartnoll wisely went their separate ways, with Phil working the DJ circuit and recording a collaborative album under the Long Range moniker, Paul finally taking those piano lessons he didn't get around to as a child, recording the orchestra-based The Ideal Condition album and teaming up with super-producer Flood to man the boards for The Music's 2008 swansong, Strength In Numbers. But in 2009 the lure of taking Orbital back on the road proved too great, the ensuing 'greatest hits' tour bringing them back to Australia for the first time since 1992 and confirming to fans new and old that the old battle station was still very much operational.
The Hartnolls, too, were invigorated – so much so that the touring experience proved the genesis for eighth studio album, Wonky, a release that pulls off that delicate act of sounding both classic and fresh with more cohesion than they've managed across an entire longplayer since 1999's The Middle Of Nowhere. And as Paul Hartnoll reveals, it's born from the same headspace that birthed the 1993 classic Orbital 2 known as the Brown Album.
"It's born out of two years of playing live and a year of DJing," Hartnoll tells us shortly after whisking his three young children off to school. "I haven't been out clubbing for the last ten years really, I'm not that interested anymore in going out to nightclubs and that sort of thing – I'm at home with my family enjoying that sort of life; you go through different phases. But it was good to go out there, play all these festivals and kind of catch up with 'so what's music doing now?' It kind of opened my ears again to what's going on and all of that and all of the experience we had from playing live all got put into this album. We were playing all our old favourites and at the end of it we were like, 'Well let's make an album of stuff we can play live, let's think about it like that – let's put into this album what we want to hear live and what we think would improve our live set.'
"When we did the Brown Album we were very much on the road all the time and it was very much a live environment, so you write for whatever it is you need or you're feeling at the time, don't you? That's where we are with this album. It'll be interesting, 'cause we're already thinking about another album and I don't know that that'll be the same. But that could be a good thing, you know – keep it fresh, keep it changing all the time."
It was that struggle to keep it fresh that saw Orbital hang up their signature torch headsets in the first place. While 2004's Blue Album saw the duo sign off with a reasonable facsimile of their trademark sound, 2001's The Altogether, while having the odd standout moment, like their reworking of the Doctor Who theme, was a frustratingly slipshod effort from an act who seemed to have lost their way.
"I think it was a directionless album," Hartnoll agrees. "I think it was the sound of people searching. When you're a creative person and you're a bit lost that's what you do, isn't it? You kind of search. Possibly what should've happened is those en experiments shouldn't have been put out as an album, they should've been exactly that – a way of going through stuff until we found, 'Ahh, this is where we are, this is what this album's about.' I kind of think that The Altogether and the Blue Album, there's probably one good album between the two of them. But that's why we stopped, because we did two albums that we weren't 100 per cent behind. From a creative point of view, you've gotta try, you always want to try, you're not going to give up that easy, but when you've done two albums where you're not entirely happy then it's time to move on and try something different."
Orbital do sound refreshed on Wonky, yet entirely like themselves. Anthems-in-the-making such as Stringy Acid and triumphant closer, Where Is It Going?, would slay dancefloors of any era, while New France is one of the biggest vocal-driven tracks of their career – Zola Jesus another addition to the list of vocalists they've enlisted before they were stars, headed by longtime friend Alison Goldfrapp as far back as 1994's Snivilisation.
"It was almost like internet dating," Hartnoll explains the Zola Jesus connection. "We'd never heard of her, but we'd got to a point that felt like, 'Oh, this needs a wailing, strong kind of female, gothic kind of vocal.' And so were listening to stuff, didn't really find much, put the word out to some of our friends and someone in the US said 'What about her?', dialed her up on Spotify and we were like, 'Ah brilliant, she's perfect.' She was up for it from the start but she nearly didn't have time because she was touring a lot. So basically it just so happened she was coming to London to do a gig in the last week we were recording our album, so she was able to come down for a couple of days and make it up and record it there and then."
Orbital's impending run of Australian dates will see them touting a scaled-back version of the production that has recently seen them return to the Royal Albert Hall for the first time since 1995, with Hartnoll promising a 50/50 mix of the old and the new. "We haven't hammered Australia like we've hammered the UK, but that's something I plan to rectify over the next five years," he adds, before asking our assessment of their finest albums and greeting the anointing of the Brown Album and 1996's In Sides with a knowing nod. "Okay, I think that's pretty much in tune with most of the universe. Another thing I plan to rectify and change."
BONUS QUOTES
I see you recently played Royal Albert Hall – first time?
"We did it before actually, in '95 – we took acid house to the Albert Hall in '95 and we've returned it again! It's a brilliant place to play – it's massive but it's kind of intimate because everyone's raked up around you in these mad tiers. It's like being in a coliseum, like being a gladiator or something except you don't have to fight a lion. Nobody put their thumbs down, I don't think so – if they did, they were outvoted."
Was that contentious back in 1995, a couple of young upstarts taking rave into such an 'establishment' venue?
"I think it was to a degree, but at the same time they're quite picky – they won't let you play there if they don't want to, they kind of decide if you play there or not once you ask, they're quite choosy. They let us, but it did feel very naughty back then. I was quite naughty as well – it was before there was a smoking ban. I used to smoke on stage, I don't smoke anymore but I used to smoke cigarettes on stage and the Albert Hall was a no smoking building. And I just went 'fuck that, waiting, I can't do that', so  I went on stage and lit up a cigarette and watched this sea of lighters light up all over the Albert Hall with everybody smoking. It didn't seem that bad at the time, but oh well. I'm a responsible father and I wouldn't dare do that these days!"
How was it working with The Music on Strength In Numbers where I guess you were a small part of the machine rather than the driving force?
"From what I can see, being a producer sometimes – especially for a band, when they can all play really well – you're kind of cheerleading, you know what I mean? They kind of know what they want to do but they're unsure, so you kind of just need to encourage them and tease it out of them, get out what it is that they want. I found if I went in and said 'try this, what happens if you do it like this?' and tried to inject a different way of doing the track, nine times out of ten they'd be quite resistant to it. So you think 'okay, that's good, you know what you want', but they thought they didn't. It was a very good experience because I got to work with Flood as well when I did that, that's where I met Flood and we got on so well that we got him to mix our album. He was just the right person for me – I wouldn't feel comfortable mixing it with someone who just does dance music, because I don't really think what we do is just dance music, but I wouldn't want to do it with someone who just does rock music. Then you get Flood who's mixed half the albums I've owned – Cabaret Voltaire albums, Depeche Mode albums…"
He's done some U2 as well.
"But we'll ignore that, I don't like U2! Don't get me wrong, I don't mind U2 either, I'm kind of U2-neutral, they just do nothing for me in either direction. You know what, they seem like really nice guys and that's about as far as it goes – I'd go to the pub with any of them but I draw the line at listening to any of their records."