A wander through India's magnificent Magnetic Fields Festival, as published in the March 2018 print edition of Australian arts/culture mag The Music.
Fun life fact: I married my lovely Indian wife on the morning of the festival before road-tripping from Delhi for our honeymoon.
Sometimes, assessing the relative merits of a festival is as easy as deducing how difficult it is to get there.
There's the peak-hour crawl out of Brisbane or Sydney that'll eventually land you in the rolling green hills outside of Byron Bay for Splendour in the Grass; the wind farm-lined highway several hours out of LA that signals your imminent arrival at Indio's Empire Polo Club for Coachella, or the even more epic journey to Nevada's Black Rock Desert and Burning Man.
And then there's the 250-kilometre odyssey from Delhi to remote Alsisar, a seemingly insignificant speck on the Rajasthan map for 51 weeks of the year, which gets its chance in the spotlight for the Magnetic Fields Festival's annual three-day takeover.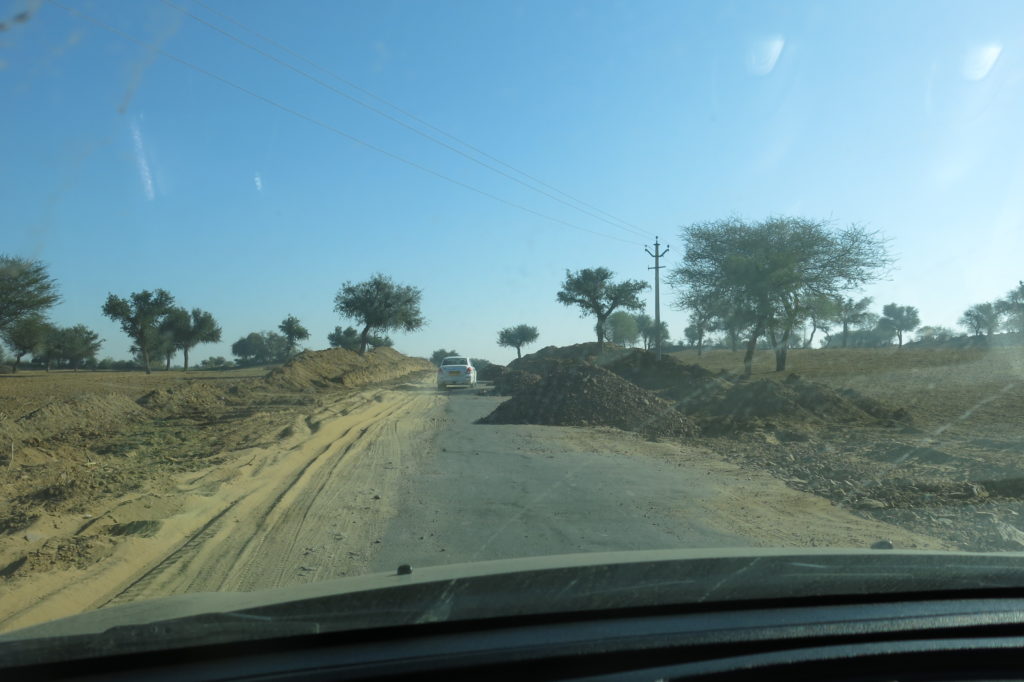 'Only in India' sights dot the journey; a juncture of two highways converged on by a dozen street vendors, each selling their own variety of the same smoked sweet potato snack; what appears to be an entire village of men gathered beneath a large tent structure listening intently to the sermons of a politician, or perhaps she's a godwoman (not unlikely given the popularity of disgraced Ram Rahim in the neighbouring state of Haryana).
After seven hours of highways, flyways and byways, dodging goats and high-beam flashing trucks on haze-heavy roads which at times resemble an abandoned construction site on the moon, the faint glimmer of a spotlight reaching into the sky from the Alsisar Mahal is like discovering a desert oasis. Although as Google Maps sends your trusty four-wheeler through a final-kilometre stretch of dirt road so winding you half expect marauding bandits to emerge from behind a semi-grassy knoll once you've inevitably run adrift, there are moments when the oasis seems more like a mirage.
A short navigation through some humble cement domiciles and you've suddenly arrived, what feels like a ghost town giving way to the home of Magnetic Fields once you round one final corner. Pop-up food stalls haphazardly blend into each other on the stretch leading up to Alsisar Mahal, though you have to dodge unauthorised spruikers attempting to relieve your wallet of an exorbitant parking fee first.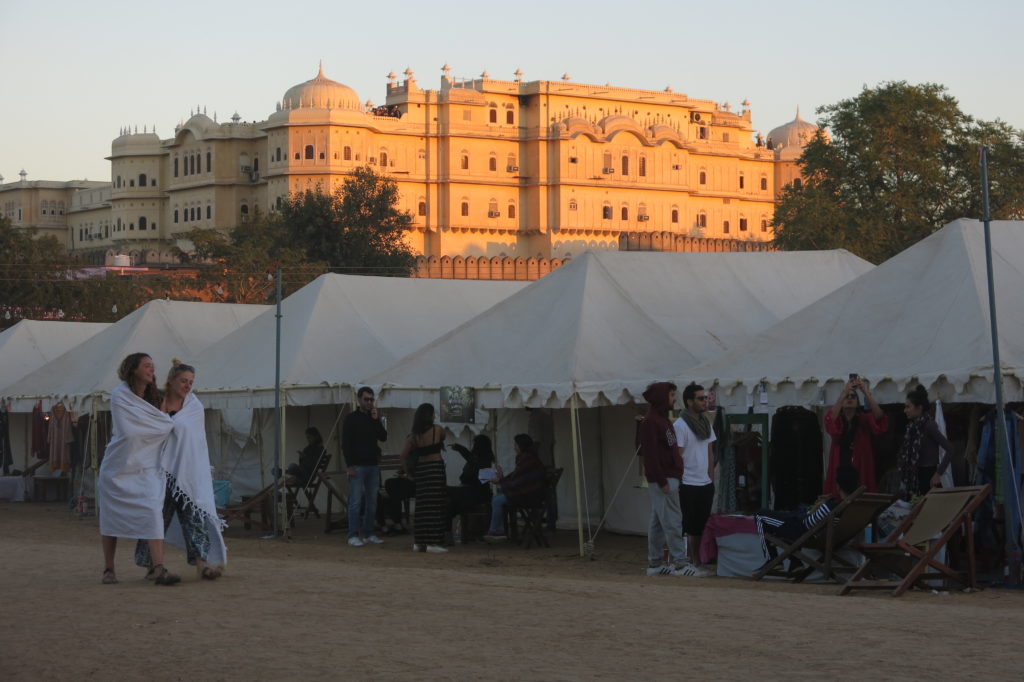 This somewhat chaotic 'real India' main street separates the walled festival grounds from the impressive desert camp which has sprung up beside it. For those not quick enough to book a room in the 17th-century palace (now a 'heritage hotel' by trade) which looms over the tiny village like a special effect, accommodation options range from the 'classic' pup tent to standard and premium Bedouin tent options. If you're going to pop your glamping cherry, a premium experience including electric lanterns, fully functional western toilet, wrought-iron vanity/basin and a hot-water shower isn't the worst way to do it. And if you're complaining about one of the tent's zips not working, go spend a few hours on the floor of one of those nearby cement prisms and come back when you've had your fill of perspective.
The nights are cold here; hoodie, coat, scarf, beanie and two pairs of socks cold. Lone security personnel sit by campfires-for-one shared with many at the end of each row of Bedouin tents. And still they have time for a friendly word ("Leaving already?" in Hindi as you walk some excess baggage back to your car) as the party unfolds around them.
Magnetic Fields passes the pivotal 'vibe' test before you've gotten close to darkening the door of the dancefloor, which you'll share with Bollywood directors and A-list WAGs, South Indian film stars, cleancut foreign backpackers and grizzled acid casualties, all mingling with India's burgeoning young middle-class (most lovely, a precious few oozing "I'll skip this queue if I want" entitlement). One Bedouin tent even blares out Armin van Buuren vs Vini Vici feat. Hilight Tribe's Great Spirit, because every 'underground' gathering needs at least one group that chinstrokers can frown disapprovingly upon.
Delhi ensemble The Ska Vengers (perhaps unsurprisingly, with a sound just like it says on the wrapper) are closing the Bira 91 South Stage on the lawn adjacent to the palace, the Friday night dancefloor still easing into proceedings. The vibe is laidback and friendly, and space is plentiful; if Magnetic Fields does continue to grow, you'd hope it's in the breadth of entertainment on offer rather than the number of punters, which feels comfortably perfect somewhere in the low thousands.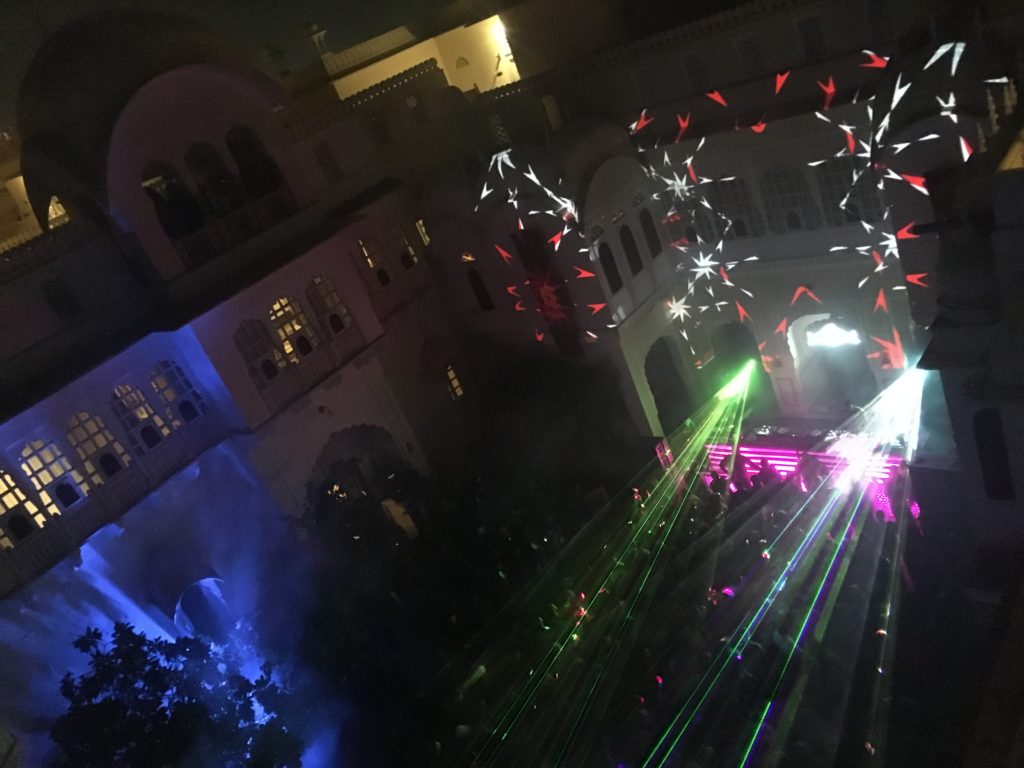 The musical program moves sequentially across the stages, so you're never in a mid-set rush from one arena to the next. At Magnetic Fields, clashes essentially don't exist. So as the Bira stage wraps up, the bass bins of the Red Bull Music Academy stage warm up with Bangalore, umm, stalwart Stalvart John unleashing a selection of house and disco so funky that wrapping up with Lola's Theme is the only logical conclusion. And the entire palace (save perhaps the ornately furnished formal dining room) is your playground, so you can enjoy his sounds from the middle of the courtyard, or any vantage point you fancy staking out on the top terrace if you've self-insulated from Alsisar's brisk night air.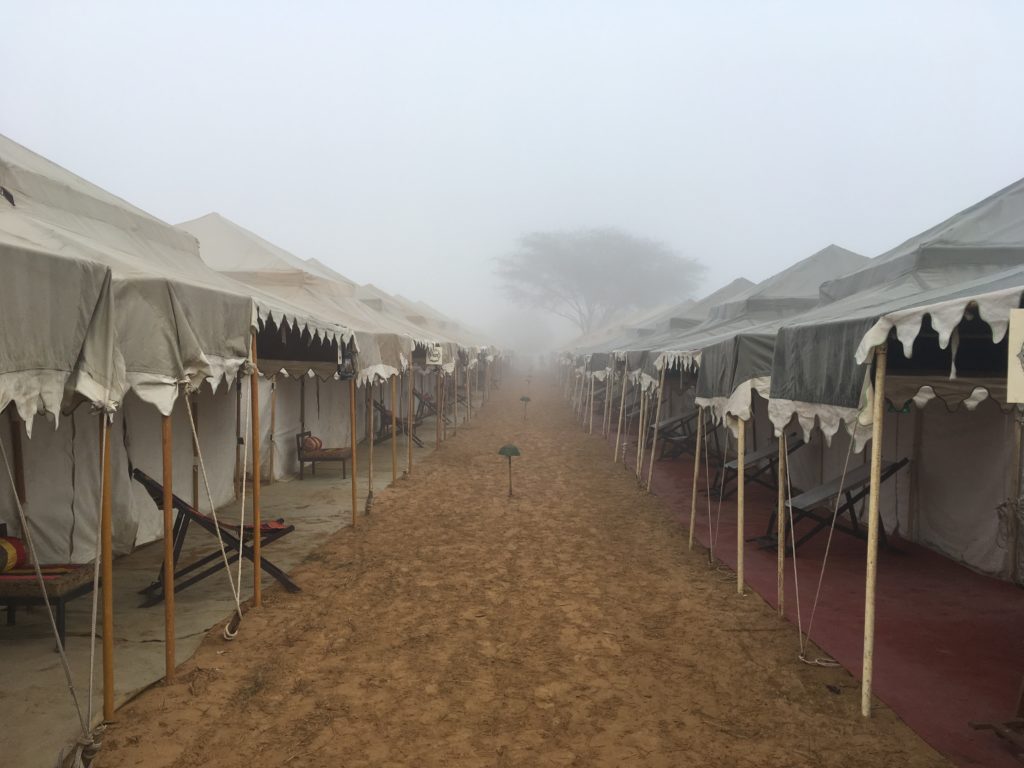 Day 2 breaks across the Bedouin tent site slowly. A thin layer of mist still lingers in the laneways at 10am; by the time you trudge past the Desert Oasis stage for your second coffee an hour later, the sun has burnt the last layers away and blue skies signal the brief arrival of shorts weather.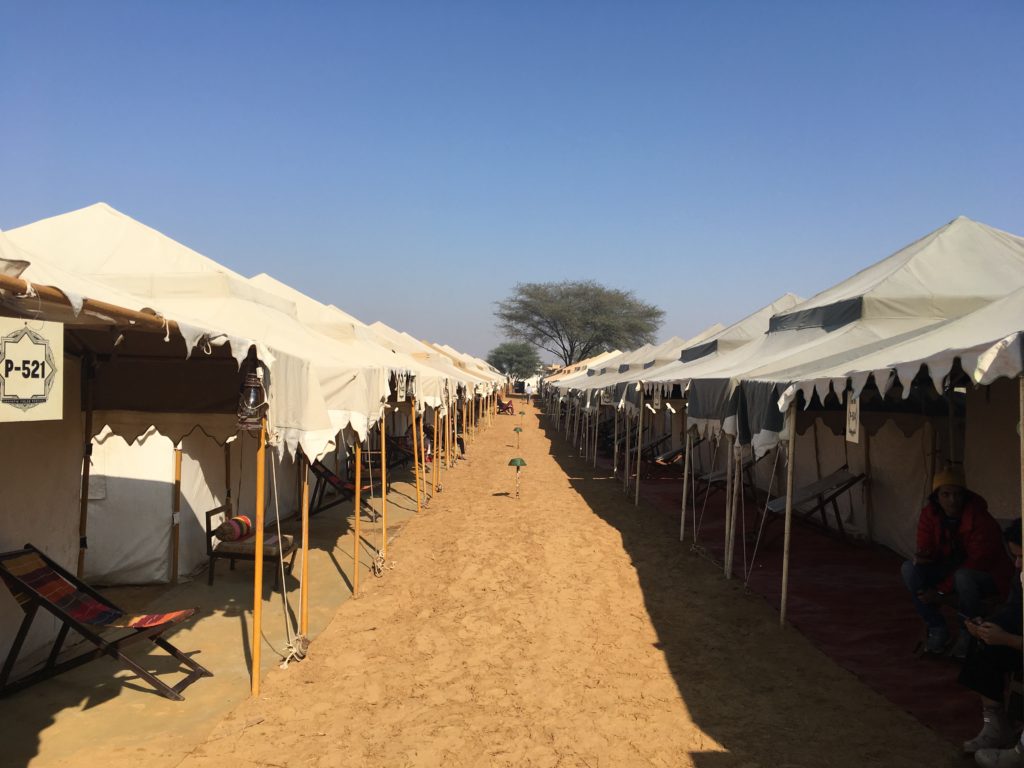 For five hours from midday, the Desert Oasis is the only stage running as the festival slowly rouses itself from its slumber (for the party set, DJs were still in operation in a corner of the palace walls until the sun rose).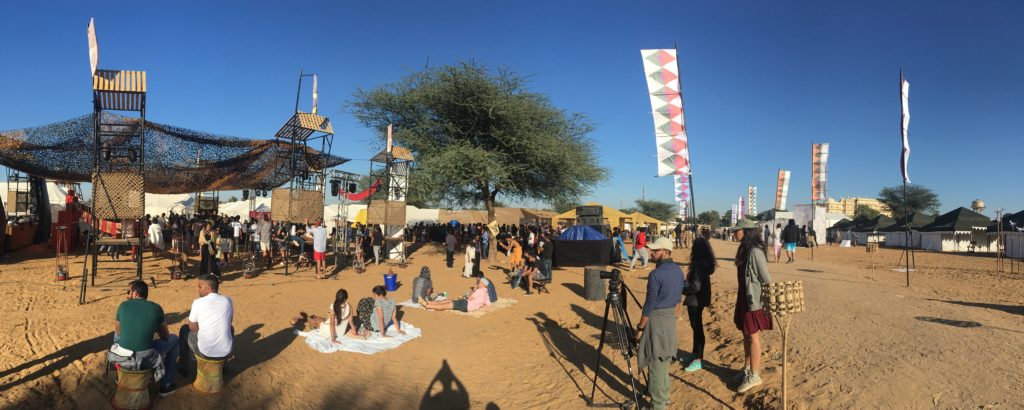 Local selector Emote is on the decks beneath the camo net-draped dancefloor, moving haphazardly through esoteric electronica pumped through a sound system so finely tuned it could trigger tinnitus in a 20-kilometre radius. A handful of hardy souls bounce wistfully through the afternoon as Emote gives way to Berlin-based wonky tech slinger She's Drunk, though most are gathered around the nearby picnic tables loading up on pizza, curry, and the mojitos flowing freely from the nearby bar.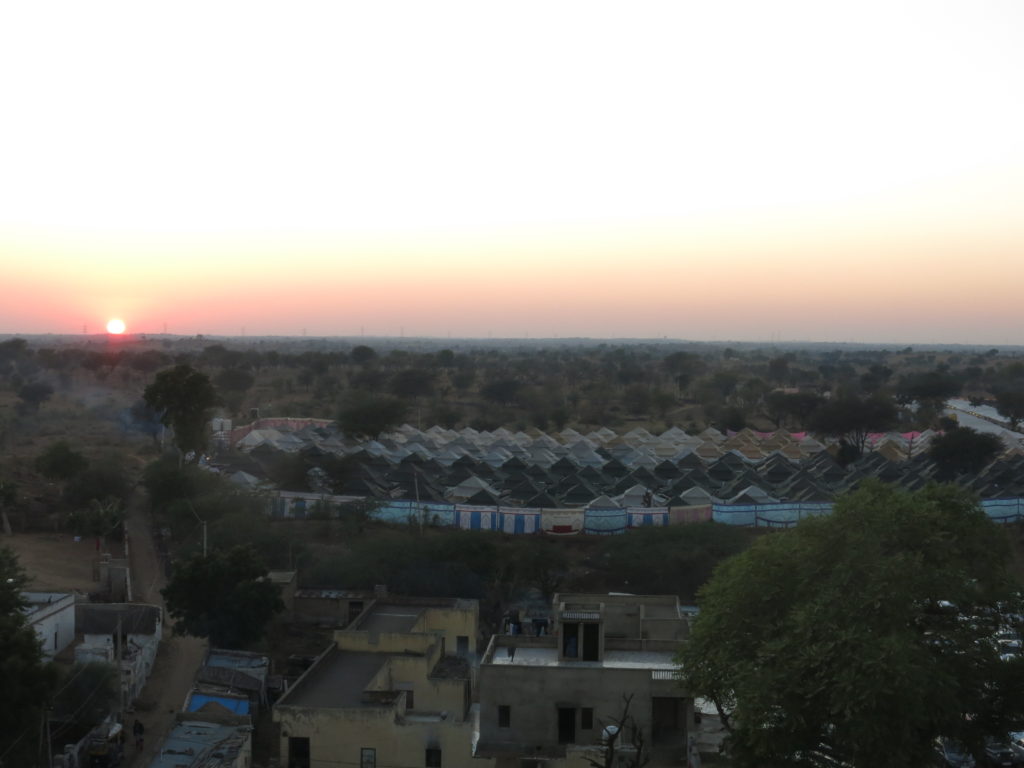 Clued-in punters have already staked out the best vantage points on the Alsisar Mahal terrace as the sun begins its slow descent over the campgrounds and behind a cluster of hillocks in the west. Mumbai producer Sandunes delivers one of the sets of the festival on the Sundowner stage once darkness has fallen, her live performance more playful and propulsive than her impressive recorded output prepares you for.
The highlights keep unfolding across Saturday and Sunday – Four Tet coaxing the sounds of New Energy and Beautiful Rewind out of his live battle station to an adoring crowd; the male-female combo who fronted the Ska Vengers sounding much more at home dishing out vintage dubplates to the Sunday Desert Oasis crowd in their BFR Sound System guise; the earnest, poignant hilarity of Thai funk meets Tarantino soundtrack via a Houston casino lounge bar of adorable Texan trio Khraungbin; Machinedrum getting hyperkinetic as fuck.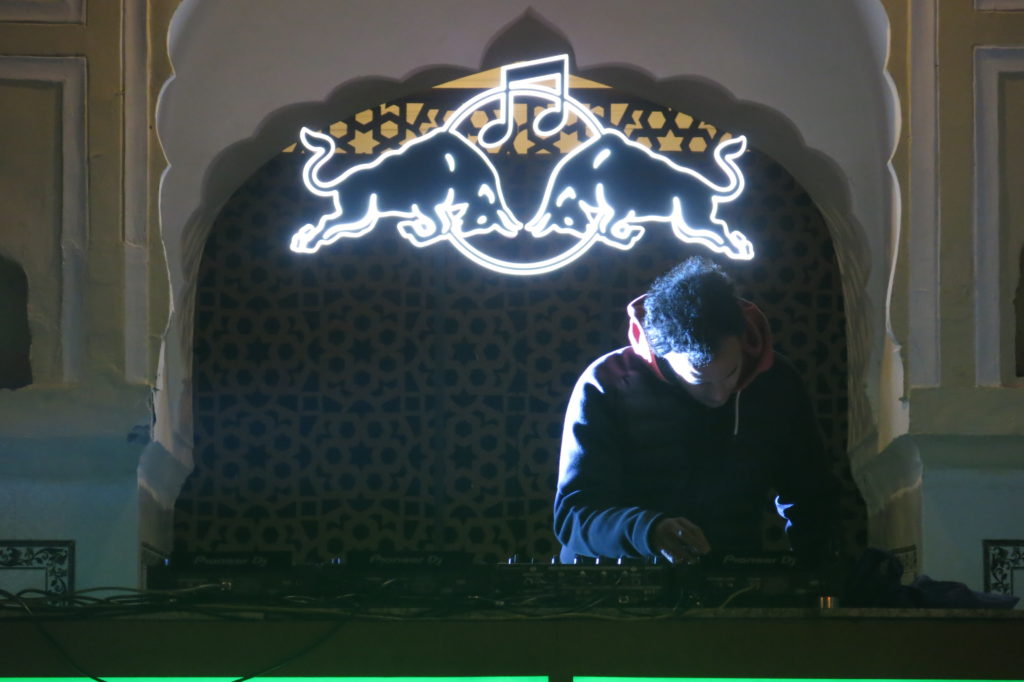 And as festival closing salvos go, Ben UFO and Four Tet alternating between jungle bangers and dancehall calls-to-arms on a frosty Monday morning with sand beneath your sneakers is about as memorable as they come.
But the real rock stars of Magnetic Fields perform to a crowd of just 30 atop Alsisar Mahal's highest vantage point as the Saturday night chill begins to set in. Introduced by Abhimanyu Alsisar – the Raja of Khetri and patron saint of Magnetic Fields whose collection of vintage jeeps (including a US-issue Korean War refugee) is open for inspection downstairs – from beneath a wide-brimmed hat that would make Pharrell Williams envious, the group of virtuosos has been drawn from across Rajasthan and neighbouring Gujarat into a supergroup of traditional Indian classical music.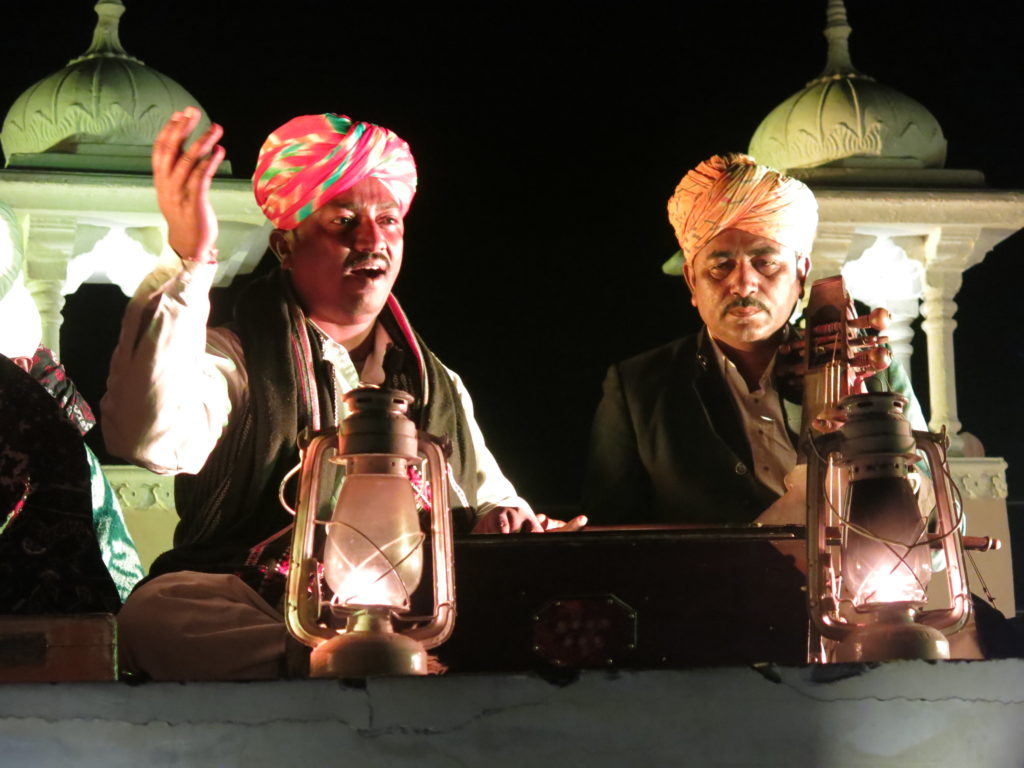 The frontman-elect wails ethereally from behind his harmonium, eliciting nervous singalongs from the assembled Gens X and Y for a Nusrat Fateh Ali Khan classic and roars of delight for the climactic song about India's royal state, its title loosely translating to "this land she weeps".
One track earlier, the drummers' demands to jam are finally met. The Raja's 'Man Friday' is a constant presence on the dholak, content to play second fiddle to the consummate showman wielding the khartal – a Rajasthani percussive instrument which consists of two sets of two wood sheets roughly the size of a 15-centimetre school ruler, clattered rapidly together in each hand.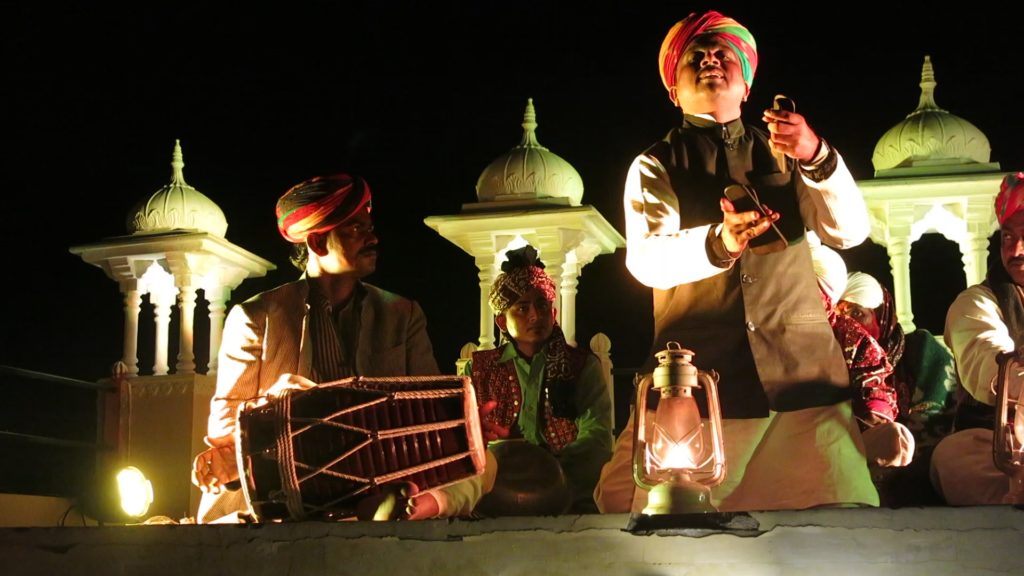 Their call-and-response rings out across the rooftop as the throbbing RBMA speaker stacks soundcheck below, the khartal walla rising from his crouching position to gyrate more vigorously with each ensuing solo to an enraptured crowd, proving once and for all that millions of rupees worth of audio technology are no match for a passionate dude wielding four sticks.