I've spent 25 years of my life listening to DJ mix CDs, the past 15 of those very, very closely. Amidst the countless thousands of hours of listening pleasure, over time it's become harder to shake the feeling that the names attached to them are drawn from the same, predominately masculine pool.
Running the numbers on the seven most-prolific mix series — Renaissance, DJ-Kicks, Global Underground, Back To Mine, Late Night Tales, Fabric and Balance — makes for a damning assessment of gender diversity in what, pre-internet, was the public face of global clubbing. Furthermore, the pendulum has barely shifted in the past decade.
I opened my Medium account with an in-depth analysis of the aforementioned brands, with some valued input from !K7 Records main man Will Saul – himself a veteran of DJ-Kicks and Balance mixes.
Read the full story here, and see a breakdown of the raw numbers plus the most-capped DJs in series history below.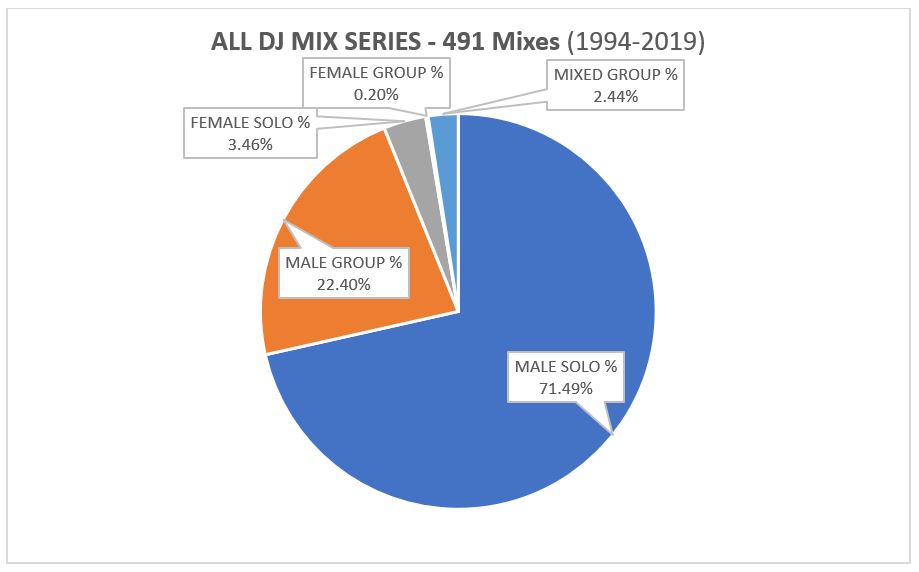 DJ-MIX SERIES HALL OF FAME
* 15 – Dave Seaman (Renaissance x 11, Global Underground x 3, Back To Mine)
* 11 – Nick Warren (Global Underground x 7, Renaissance x 2, Back To Mine, Balance)
* 7 – Hernan Cattaneo (Renaissance x 5, Balance x 2)
* 6 – Groove Armada (Late Night Tales x 4, Back To Mine, Fabric), John Digweed (Global Underground x 3, Renaissance x 2, Fabric), Danny Howells (Global Underground x 3, Renaissance x 2, Balance)
* 5 – Deep Dish/Sharam/Dubfire (Global Underground x 4, Renaissance x 1), James Lavelle (Global Underground x 4, Fabric x 1)
* 4 – Danny Tenaglia (Global Underground x 2, Back To Mine, Balance), Sasha (Global Underground x 2, Renaissance, Fabric), Satoshi Tomiie (Renaissance x 3, Global Underground), Craig Richards/Tyrant (Fabric x 4)
* 3 – Adam Freeland (Back To Mine, Fabric, Global Underground), Nightmares On Wax (Back To Mine, Late Night Tales, DJ-Kicks), Four Tet (Late Night Tales, DJ-Kicks, Fabric), Bill Brewster (Late Night Tales x 3), Stacey Pullen (DJ-Kicks, Fabric, Balance), Deetron (DJ-Kicks, Fabric, Balance), Anthony Pappa (Renaissance, Global Underground, Balance), James Zabiela (Renaissance x 2, Balance), Lee Burridge/Tyrant (Fabric, Global Underground x 2, Balance), Terry Francis/Wiggle (Fabric x 3), Darren Emerson (Global Underground x 3)
* 2 – Magda (Fabric, Balance), Nina Kraviz (DJ-Kicks, Fabric), Faithless (Back To Mine, Renaissance), Belle and Sebastian (Late Night Tales x 2), Carl Cox (Global Underground, Back To Mine), Death In Vegas (Back To Mine, Fabric), Bugz In The Attic (Back To Mine, Fabric), Krafty Kuts (Back To Mine Fabric), Howie B (Late Night Tales, Fabric), James Holden (DJ-Kicks, Balance), Soul Clap (DJ-Kicks, Fabric), Hercules and Love Affair (DJ-Kicks, Renaissance), Maceo Plex (DJ-Kicks, Fabric), Will Saul (DJ-Kicks, Balance), Jackmaster (DJ-Kicks, Fabric), Scuba (DJ-Kicks, Fabric), Daniel Avery (DJ-Kicks, Fabric), Matthew Dear/Audion (DJ-Kicks, Fabric), Michael Mayer (DJ-Kicks, Fabric), Robert Hood (DJ-Kicks, Fabric), Kode9 (DJ-Kicks, Fabric), Carl Craig (DJ-Kicks, Fabric), Phil K (Renaissance, Balance), Tom Middleton/Global Communication (Fabric, Renaissance), Tale of Us (Renaissance, Fabric), Plump DJs (Fabric, Global Underground), Tiefschwarz (Fabric, Renaissance), Radio Slave (Fabric, Balance), Agoria (Fabric, Balance), Joris Voorn (Fabric, Balance), Marcel Dettmann (DJ-Kicks, Fabric), Bonobo (Late Night Tales, Fabric), Patrice Baumel (Balance, Global Underground), Henry Saiz (Balance x 2), Desyn Masiello/SOS (Balance x 2), Tony De Vit (Global Underground x 2), Paul Oakenfold (Global Underground x 2), Nic Fanciulli (Global Underground, Balance), Plump DJs (Fabric, Global Underground), Kid Loco (Late Night Tales, DJ-Kicks), The Glimmers (DJ-Kicks, Fabric), Paul Woolford/Special Request (Renaissance, Fabric)