If lockdowns are good for anything, it's knocking over projects you've been kicking around in your head for a decade or more. Exhibit A: this DJ mix, which is embedded below. But of course, I'm going to tell you how we got there first.
The Empire Hotel Moon Bar. The best little breakbeat club in Brisbane. The dingy, smoke-filled, bass-booming sweatbox where the sunlight peeked through the gaps in the curtains when it was 5am and time to brave the cab queues of Fortitude Valley to get home (or to whatever kick-on took your fancy). The place I spent more weekends of my 20s than any other (with indie haunt Ric's running a distant but honourable second), putting enough money across the bar to put several of the Bickle family's offspring through university. Where I could walk in at early doors and get a Long Island Iced Tea mixed by Will or Jai without having to ask for it, then debrief at the far end of the bar seven hours later with the resident DJs who made that place a club in the truest sense of the word.
Suffice it to say, it's all a bit of a blur and I should've written this years ago. But here we go…
Breaks was just breaking through when I moved to Brisbane in late '98, and the top floor of Ric's was where it was at: Katch & Dave (aka 2Dogs, the driving force behind seminal Aussie hip hop/big beat act Resin Dogs) laying it down on a Friday night, Jon G doing likewise on a Saturday. Just around the corner at The Zoo it was the live acts taking centre stage: the aforementioned Resin Dogs and breakbeat trio Soma Rasa were at the fore, with the occasional head-caving cameo from Sydney live drum'n'bass act The Bird (who are another story for another time but absolutely pivotal to my life in music).
At the apex of those two venues, just across from the Brunswick Street Mall, stood the grand old dame of Fortitude Valley: the Empire Hotel. As I remember it, the Corner Bar at the turn of the century was the best club for "pure" house heads in town, running seven nights a week (or thereabouts) and ram-jammed more often than not. On the second floor was the Middle Bar, home of Superdeluxe – a club night where indie/alternative, punk/funk and pretty much anything else would get an airing.
I'm conscious of the Moon Bar, crammed into a corner of the top floor (with the other end being offices), becoming a thing at some stage in the early 2000s. It may even have been earlier. Exactly when the transition from "this joint is cool" to "this is my spiritual home" took place is lost in the annals of time. But getting my live act, D-Ko, onto that stage alongside the rogue's gallery of resident DJs – Lectre, Brazen, Mr Gaunt, Rasp, and the big daddy of Brisbane breaks, Shredlock – quickly became a life mission.
After cutting our teeth on some self-promoted Thursday night parties there, we eventually got the call-up in August '03 for Nu Sounds (a Friday night showcase for new acts run by Soren Osterman, aka Rasp from the Vinyl Slingers) after dropping a demo in the slot at Rockinghorse Records. We'd made it! Kind of. But they let us play tribal, prog and borderline trance at a breaks club, which was a win in itself.
Also on that line-up: a future housemate (who I met for the first time that night, and who spun the debut vinyl release of another soon-to-be lifelong friend) and the man who went on to design the artwork for my novel, The Drop, nearly two decades later. Small world…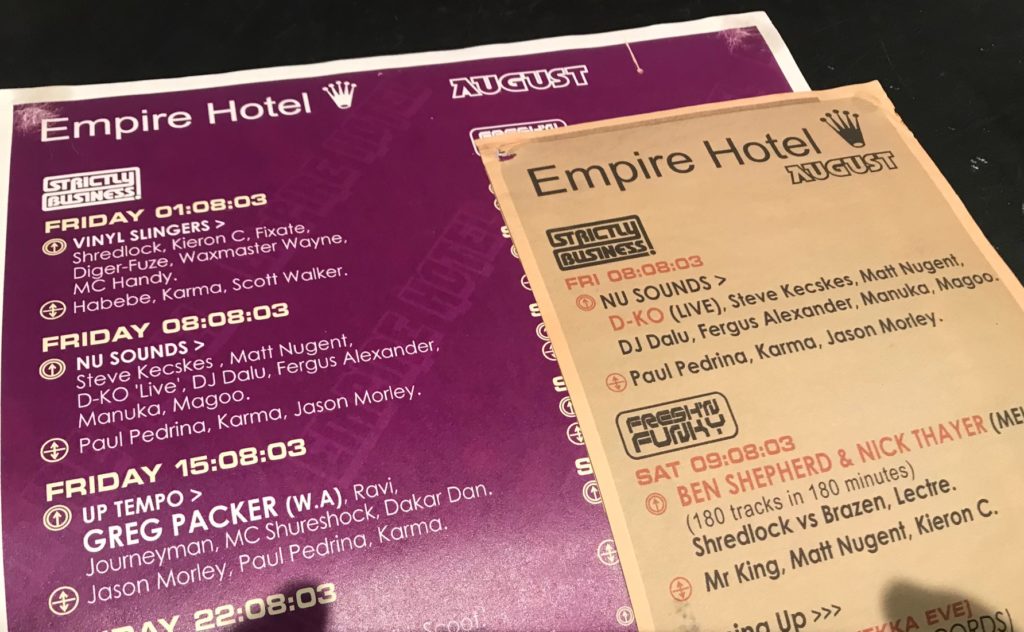 From there, D-Ko were ushered into the Saturday night rotation, playing quarterly at Fresh'n'Funky and being championed by the Reid brothers, Shredlock and Lectre. (Stu, aka Lectre, took it upon himself to be our unofficial scratch DJ and hype man, which was very encouraging.)
But it wasn't just us. A mini movement of live acts had emerged with the Moon Bar as their ground zero. The Resin Dogs were the godfathers, with Soma Rasa and Zephyr Timbre operating on a tier just below. Then there was the rest of us, including (but not limited to) D-Ko, Sanyasa, Superfluid, Whispa, Teschnik, Musiq For Pleasure, Statler & Waldorf, Dope & Dusted and Kid Kay Ferris. And over the 2005-07 period, when broken beats were losing their grip on Australian dancefloors (and consequently the Moon Bar), My Ninja Lover, Bitrok, Hyperion (before they teamed up with Moby as Loops Of Fury), Operon, Speakerwrath and Silent Shadow (my latter-day d'n'b act) all kept the tradition alive. Meanwhile, down in the Middle Bar, Pty Ltd delivered the occasional set of live, incredibly slick funky house.
So. Many. Good. Times. Anyone who witnessed the Kid Kay Ferris album launch on a school night in 2003 still speaks of it in hushed tones.
The sounds being pushed out by these acts were so diverse I couldn't cram them all into a one-hour mix, but I've given it a red-hot go.
TRACKLISTING
1. Dope & Dusted – Juicy Flashback
2. Dope & Dusted – Juicy Flashback (Teschnik Remix)
3. Kid Kay Ferris – Phil Collins Running
4. Superfluid v Vectrex – Nous Sont Pas Francais
5. Soma Rasa – I Like It
6. Bitrok – Crazy
7. Hyperion – On The Expressway
8. Kid Kay Ferris – Working Underground
9. Superfluid v Vectrex – Big Phat Lick (Muppet Respect Mix)
10. Teschnik – Red Shift
11. Whispa – Violating Rhythms
12. D-Ko – K-Grind
13. Shredlock & Shureshock – Terminal9 Outro
14. Operon – Regolith
15. Silent Shadow – Orion
16. Speakerwrath – Mindjack VIP
17. Speakerwrath – Broke
There are enough tracks on the cutting room floor to form the basis of a sequel, and that's before taking into account the live house/tech acts who picked up where the breaks crew left off: Segue, Murray Antill, lowkey+nude, et al. Hopefully it won't be another decade before I knock that one out.
Postscript: If my folders of gig flyers are accurate, I eventually got to suit up at the Moon Bar 23 times (and once in the Middle). And the best gig was the last one, slamming out the 175bpm-plus jungle rhythms behind the kit with my brother manning the synths in Silent Shadow, the dancefloor absolutely heaving, mostly with randoms, as we tore the arse out of the joint like we never had before. It was my final gig as a Brisbane resident before moving to Sydney in April 2010, and I wouldn't have wanted it to be anywhere else.
The Moon Bar was converted into function rooms a couple of years later.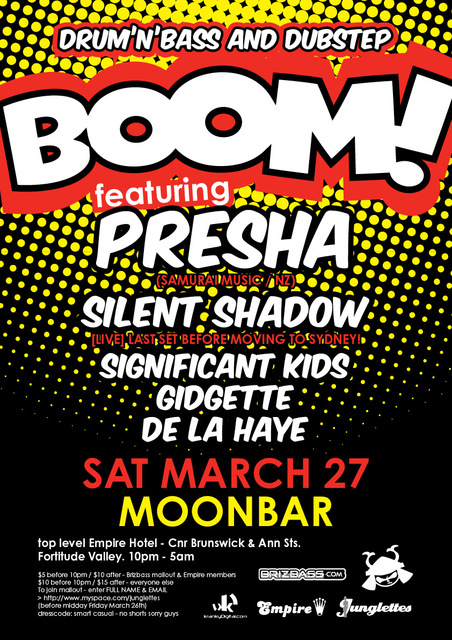 Taking pics while clubbing apparently wasn't a thing back then but I've managed to unearth a couple…